Cascadia is a Canadian Company that has sales & service centres in Vancouver, Toronto and Beijing.
We specialize in providing custom sport system solutions for ice hockey, in-line hockey, indoor soccer, multi-activity courts and skating rinks. Ensuring the choice is best suited to each facility's specific requirements. With a full range of specialty products and services, Cascadia is quite capable of being your one full-service provider.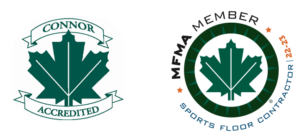 BUILDING BETTER SPORTS FACILITIES
Welcome to Cascadia Sport Systems.
We are a well-known and trusted global leader in our field and we offer our partners a full range of Products and Services. We not only offer the supply and installation of our products, we also engage with our clients in the consulting, design and/or planning phases as required. We are second-to-none in our Service. Countless Arenas and recreational facilities in North America and around the world have counted on Cascadia for decades. We provide a long list of products and services for indoor/ outdoor, community, multi-purpose and professional multi-use facilities.
Cascadia was the only company to supply dasher boards for all competition and training venues for the Vancouver 2010 Winter Olympics. We design, build and supply equipment that is designed to meet the unique needs of each facility to the maximum. With installations and service centres around the globe, we are able to offer a true world class service. Our Systems are "State-of-the-Art" technology. They are specifically designed and purpose-built for the customers' desired application. We have a dedicated team of professionals with many years of experience in our industry to help you make the right decisions and installations that are on-time and budget. Deployment and support services are part of each project that we undertake.
Cascadia has provided our products in over a dozen different countries. Our satisfied customers include: NHL hockey teams, NBA teams, Olympic venues, many other professional, semi-pro and recreational teams, Government-owned recreation centres and privately-owned sports facilities. With our in-house CAD design, manufacturing and testing, we assure the best outcome every time for our customers. Cascadia provides installation expertise for all of our orders and we have full-time installation crews able to provide complete professional installations around the world. Cascadia is well known for providing excellent follow-up service and exceeding industry standards for warranty coverage as well. We stand behind our products and our customers. We look forward to hearing from you.